Contemporary Jazz Series w/ Halfbrass
The next installment in the NJW's Contemporary Jazz Series is Saturday, June 29, and features Halfbrass.
Halfbrass is Nashville's own funky brass band! Born under the influence of classic New Orleans tradition, Halfbrass mixes traditional brass band music with funk, jazz and rock. In its first year, Halfbrass was named a "Top 5 Local Band" by The Nashville Rage.
Halfbrass' core members are Kevin Rimmer (trumpet), Chris West (saxophone), Oscar Utterstrom (trombone), Neil Konouchi (tuba), and Justin Amaral (drums). Their special guest for this Contemporary Jazz Series performance will be trumpeter Rod McGaha!
Click here for some video of Halfbrass in performance.
Since their debut in 2002, Halfbrass has continued to spread their brass sound to audiences across the country. The band is a hit at events such as weddings, parties, concert halls, clubs, corporate functions, and even backyard crawfish boils. They have appeared as guest artists/clinicians at several schools in the middle Tennessee area, and have toured the Eastern United States. In 2003, they released their first album Come On Down, which received great reviews, and are currently recording their next album, expected to be released later this year. They have performed for groups including The Nashville Roller Girls, Tomato Art Fest, The Food Network, ASCAP, Berklee College of Music, and Vanderbilt University.
Halfbrass has recorded and played with national & local artists including Big Bad Voodoo Daddy, Bekka Bramlett, Christina Watson, The Volunteer String Band, Old Union, and Greg Barnhill.
Tickets for the 8pm show are $20, $10 for high school and college students, and go on sale Monday, June 17 at 10am. They may be purchased online on this page, by phone 24/7 at Brown Paper Tickets (800-838-3006), or during daytime business hours at 242-5299.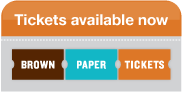 Featured Video
Halfbrass at 2011 Fringe Festival